[NEW Product] The NZ Investment Game
INVESTMENT™ is an exciting strategic investment game where big fortunes may be made!
Thursday, July 23rd 2009, 12:00AM
by The Landlord
Learn a lifetime of investment experience in a few short hours.
INVESTMENT™ is an exciting investment game that's fun and educational. By playing INVESTMENT™ you will learn a life-time of investment experience and learn the very same investment strategies that the super rich have used to build their fortunes.
Although INVESTMENT™ is a "game" it is very real in the way it simulates the investment markets - the markets conditions you will experience are exactly the conditions that occur in real-time markets. Invest in the sharemarket, buy property, invest in the money market, trade derivatives, opt into Kiwisaver, or build a career.
The game is played by moving around the INVESTMENT™ game board and taking actions using the game software. That software simulates the investment markets and takes care of all the paperwork for you, which makes INVESTMENT™ fast and easy to play so you can get down to the business of investing and learning.
The object of the game is simple: To make more money than the other players. The player with the most wealth at the end of the game is the winner.
INVESTMENT™ combines the traditional board game approach with the sophistication of a software package that simulates the dynamic real-life investment environment. Every game is different, and every time you play your investment skill and knowledge will grow.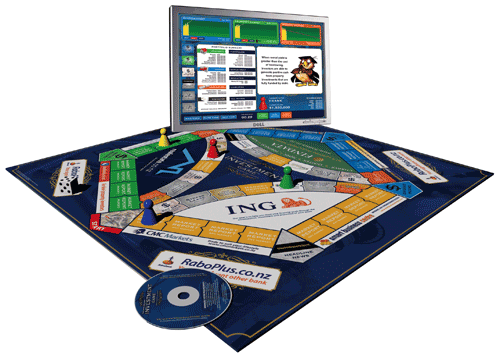 Who should play this game:
Anyone wanting to become financially independent.
Investors wanting to make their investments more profitable.
Those wanting to retire young.
Parents wanting to teach their kids about good money management and wise investment.
FEATURES:
Real market data and thousands of investment scenarios so no two games are the same.
Interactive tips and investment advice from Frank Newman.
An investment performance report for each player so you can measure your success.
Online update for the latest game versions and market updates.
About the Creator
Frank Newman is a qualified accountant and investment adviser. He is one of New Zealand's most successful investment writers, having written 11 books on investment matters, including a number of best sellers in New Zealand and South East Asia.
Frank and his wife Muriel, live on a coastal property (Rocky Bay Cove) in Tutukaka, Northland, New Zealand.
His professional interests include investment, writing, and lecturing.

To read our review of The NZ Investment Game click here
To purchase this game for only $149.95 +p&p please visit our Bookstore
Commenting is closed