Auckland consents hit all time high
The Super City has seen the number of new dwelling consents being issued surge to a record high - but economists believe house building activity is nearing its peak.
Tuesday, July 30th 2019, 1:19PM
by Miriam Bell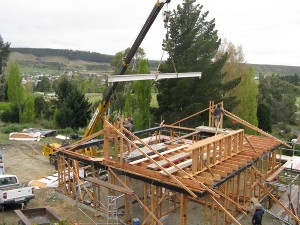 There were 14,032 new dwellings consented in the Auckland region in the year ended June 2019, according to the latest Stats NZ data.
That's the most ever consented in a year.
In fact, Stats NZ construction statistics manager Melissa McKenzie says it exceeds the previous peak of around 13,000 in the mid-1970s.
"Since then, Auckland's population has doubled and is now about 1.7 million."
The number of new homes consented in Auckland in the June 2019 was up 13% from the June 2018 year and was more than four times the lows seen in 2009.
Over the last few years, the growth in consents has been driven by multi-unit developments like townhouses and apartments – and they now account for around half of all new dwellings consented in Auckland.
But while the number of new homes consented in Auckland is higher than the previous 1970s peak, the total of all new dwellings consented in New Zealand lags behind the all-time highs.
There were 34,761 new dwellings consented across New Zealand in the year ended June 2019, which is below the all-time peak of 40,025 in the February 1974 year.
Additionally, the nationwide consents figure actually fell by 3.9% in June, as compared to May. However, May saw a particularly strong lift of 13.5% in consents, so the decline is moderate.
Westpac senior economist Satish Ranchhod says that underlying the increase in nationwide issuance is the strong growth in Auckland consent numbers, which includes an increasing amount of medium density homes.
"While population growth in the region remains strong and an extended period of rapid building will be required, the region is now consenting enough homes to keep up with population growth."
He says the data also shows strong issuance levels in the Waikato, Whanganui-Manawatu, Wellington and Otago, but suggests the home building cycle is easing off in areas like Northland and the Bay of Plenty.
Conditions in the construction sector are changing on several key fronts with consent numbers now more commensurate with changes in the population and population growth easing, Ranchhod says.
"Putting all that together, we think a peak in the nationwide construction cycle is approaching and expect this to occur in 2020. Building levels are still expected to remain elevated for some time.
"But after this year, we don't expect to see the same large increases in nationwide construction-related spending and employment that we did in recent years."
ASB senior economist Jane Turner agrees. She believes housing construction is close to a peak but expects consent issuance to remain elevated over the coming year or so.
That's in order for housing supply to make up the short fall which appears to have emerged in a number of regions over recent years.
"Furthermore, we expect the housing market to benefit from a pick-up later this year, underpinned by lower mortgage rates, which should provide additional support to house building demand."
Read more:
Super City changes enabled by Unitary Plan
Comments from our readers
No comments yet
Sign In to add your comment
www.GoodReturns.co.nz
© Copyright 1997-2022 Tarawera Publishing Ltd. All Rights Reserved