Investors target newly built homes
A sizeable chunk of residential property investors were thinking about buying new builds even before yesterday's announcement. The Government has confirmed that newly built houses will get a 20-year exemption from the tax deductibility rules set to kick in this week.
Wednesday, September 29th 2021, 11:59AM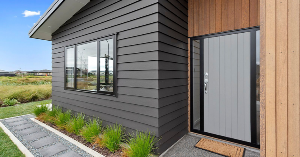 A monthly property investors' survey – run by independent economist Tony Alexander and Crockers Property Management – shows that on average over the past four months, 49% of investors planning to make a purchase intend making it a new build.
Alexander says considering new builds each year only account for about 2.5% of the housing stock, this is an overwhelming bias towards buying new.
He says existing investors will try to load as much debt as they can onto new builds and move it away from existing properties.
Investors planning to buy a new house have a slightly stronger preference for a standalone house (47%) over a townhouse (40%). Only 13% favour an apartment.
The strong preference in size remains for a two to three-bedroom home.
Alexander says the market can expect investors to continue favouring new builds despite banks tightening up new build lending requirements.
According to results from his recent mortgage brokers' and real estate agents' surveys, Alexander says banks are making investors and owner-occupiers allow for a 20% blowout in costs when looking at debt servicing and deciding whether a borrower qualifies for a loan.
Also the proportion of expected rental income which landlords can use when looking at their ability to service a loan is being heavily discounted by banks in loan decisions, he says.
Forty-seven per cent of respondents to the investors' survey plan on buying a new property.
It is too soon to say what is driving this figure, adds Alexander. But the growing discussions about rising construction costs, increasing sales prices asked by developers, and delays in construction are likely causing investors to switch back to searching listings of existing properties rather than financing new ones.
Although there has been a small decline in the number of investors considering a fresh property purchase over the coming year – down to 25% from 29% – there are issues ahead says Alexander.
These include mortgage interest rates rising, discussion of new RBNZ lending rules and the continuing lockdown in Auckland.
Selling up
A gross 26% of investors in this month's survey are thinking about selling a property in the coming year. This is up from 22% last month.
But again, the move is quite small considering the various forces in play such as rising interest rates.
For those investors who are selling, 39% say they are selling in order to fund their retirement.
This is a jump from 32% last month and in July, while just 18% say they are selling because of the tax rule changes. This is down from 32% two months ago and 26% last month.
"These numbers provide further evidence the effect from the tax changes appears to be fading," says Alexander.
"The small rise in selling intentions and decline in buying intentions more strongly suggests a general easing off of upward pressures in the residential property market from transactional plans of investors.
"With four months of surveys in hand, investors are definitely in for the long haul. Only 4% of investors plan holding their property for less than another year.
"The results for the previous three months were 5%, 4% and 6%.
"In contrast, 66% of investors plan holding for at least a decade or not selling at all. Results for the previous three months were 70%, 68% and 65%," he says.
Existing properties
For those investors planning to buy an existing property, the strong preference held by 66% is for a standalone house. Just 23% would opt for a townhouse and 11% an apartment.
The key difference in property purchase preference by investors is relatively low intentions of purchasing an existing townhouse.
Over the four months the surveys have been running there is no trend shift in preferences underway.
Again, when it comes to size, a two to three-bedroom property is just as clearly preferred when buying an existing property as a new one.
Rents
Rents are set with reference to the market.
In the survey there is no upward trend apparent in the proportion of investors saying they are thinking about raising their rents over the coming year.
This month a gross 77% have said they are considering rises compared with 79% last month.
Of those investors planning to raise their rents, 44% intend increases of between 1% and 5%, 46% intend 5-10%, 8% between 10-15% and 3% plan rises of more than 15%.
The average rise planned is 6% from 6.1% last month and 6.6% three months ago.
There is no evidence that rising anticipation of interest rates is causing a shift up in rent increase desires.
Comments from our readers
Sign In to add your comment
www.GoodReturns.co.nz
© Copyright 1997-2022 Tarawera Publishing Ltd. All Rights Reserved