Fear of missing strides out the back door
Real estate agents are reporting fear of missing out (FOMO) has finally been dented.
Friday, December 3rd 2021, 11:07AM
by Sally Lindsay
Tony Alexander says FOMO fallen to a level not seen since April last year when the country was in its first nationwide lockdown and house prices were widely expected to decline.
In his survey of real estate agents carried out in conjunction with the Real Estate Institute, Alexander found on average a gross 69% of agents each month indicated they were seeing FOMO on the part of buyers.
In last month's survey only 39% report such buyer angst. This is the lowest reading since April 2020 when 35% claimed they were seeing FOMO.
The reading soared to 90% when the market frenzy was at its strongest between August last year and February this year. It dropped after the government's announcement is was going to phase out over four year investors' ability to deduct mortgage interest payments as an expense against rental income and increase the bright-test to 10 years.
It then recovered to sit at almost 79% for the past three months. The latest FOMO figure is the second weakest result since the survey started.
Alexander says other statistics back up the fact buyers are withdrawing. "Investors have become less willing to buy, but it is first home buyers who have strongly stepped back from making a purchase for now.
"Feedback from agents shows that prospective buyers have experienced substantial difficulties obtaining finance from banks as they apply debt to income ratios, assess expenses more deeply to meet requirements of the Credit Contracts and Consumer Finance Act, and temporarily stop low deposit lending other than for new builds to meet new LVR requirements."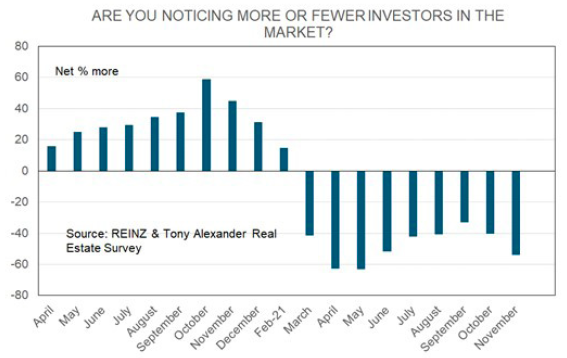 A net 46% of agents say they are seeing fewer people turn up at auctions. Along with the drop in auction attendance has been a decline in the number of people going to open homes. A net 61% of agents have reported seeing lower open home visits. As with auction attendance, this is the weakest result on record.
"The impact of the nationwide lockdown from 18 August and the extended Auckland lockdown have already been captured in the three previous surveys, therefore a new factor or factors are now in play to account for this pullback in attendance."
The survey shows there is a clear drop in buyer worries over the listings available, but a substantial increase in concerns about accessing finance and a slightly lesser rise of 53% in worries that prices might fall (FOOP - fear of over paying).
He says people naturally expect that if fewer potential buyers are attending open homes and auctions then there will be less upward pressure on prices. "That is certainly the perception of agents with a net 18% this month reporting they feel prices are rising in their area. This is down from a net 60% last month and equal to the reading in late May 2020 as we emerged from the first nationwide lockdown.
The average reading for this measure since our survey started has been a net 56% of agents reporting prices rising. Given the recent comments from the Reserve Bank that it considers prices to be above sustainable levels, and the Government's stated desire to improve housing affordability, to the extent actual price growth does slow down this will be positive from a policy settings point of view.
"If price growth does substantially slow, the chances of the Government considering the introduction of further measures aimed at dissuading investors from buying or retaining ownership of rental properties will drop."
The good news, says Alexander, is requests for appraisals have risen, more vendors appear to be stepping forward
Comments from our readers
No comments yet
Sign In to add your comment
www.GoodReturns.co.nz
© Copyright 1997-2022 Tarawera Publishing Ltd. All Rights Reserved