COMMENT: Why Takapuna is worth a look
It's no surprise that new REINZ data shows Takapuna's median house price has climbed 30% over the past year, writes Takapuna Beach Association chief executive Terence Harpur.
Saturday, April 27th 2019, 11:49AM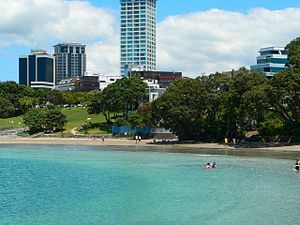 That's because it reflects the area's significant activity and buoyancy at the moment.
REINZ's list of Auckland's fastest growing suburbs over the six months to the end of March, as compared to the same time last year, was released earlier this week.
While the list reveals that some suburbs experienced big falls, Takapuna led the pack of those which enjoyed the biggest increases.
In fact, the REINZ list crowns Takapuna as Auckland's fastest-growing suburb because its median house price rose by 30% from $1 million last year to $1.3 million this year.
It's not surprising because there is a lot going on in Takapuna when it comes to commercial, retail, and residential property, not to mention all the Auckland Council–led developments and upgrades.
Takapuna is going through a major transformation and its future has never looked brighter.
Panuku Development Auckland is leading the charge to create an open, vibrant retail destination focused on people and a better connection to the beach.
It's tasked with partnering with the private sector to deliver a high-quality mixed-use precinct, currently the Anzac Street carpark site, with a key component being a brand-new town square.
A significant upgrade of Takapuna's main street, Hurstmere Road, is in detailed design with construction expected towards the end of this year. While Panuku is now constructing the multi-level Gasometer 420 carpark building on Huron Street.
Takapuna's impetus comes after the Auckland Plan identified it as one of Auckland's 10 metropolitan centres. Unitary Plan zoning now enables significant growth and intensification in and around central Takapuna.
We're currently seeing apartment complexes going up on the fringe of central Takapuna, with more than 400 individual apartments coming to market. They will be great for our retailers and hospitality operators.
Takapuna is only getting more and more sought-after.
"We're seeing old buildings getting upgraded, developers creating new spaces to attract even more eateries, rising commercial property prices, and a general increase in buoyancy and business confidence.
And now we're also home to the strongest increases in house prices in Auckland. It's certainly an exciting time for Takapuna.
Read more:
Comments from our readers
No comments yet
Sign In to add your comment
www.GoodReturns.co.nz
© Copyright 1997-2021 Tarawera Publishing Ltd. All Rights Reserved