Covid-19 fog hangs over consents increase
New dwelling consents were up by 20% year-on-year in June. That's a big increase but it doesn't allay the concerns of economists going forward.
Thursday, July 30th 2020, 4:00PM
by Miriam Bell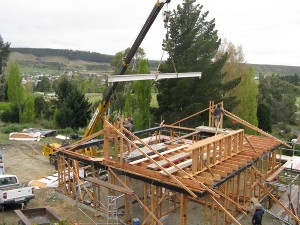 There were 3,477 new dwellings consents issued in June, which was an increase of 20% on the number issued in June 2019, according to Stats NZ's latest data.
While there was a mere 0.5% rise in consents from May, annual consents for the June 2020 year ticked up to 37,614 – which means issuance remains at record levels.
Stats NZ acting construction indicators manager Dave Adair says while there was a fall in consents in April during alert level four lockdown, it was followed by a high number of consents in May and June.
But currently there is uncertainty around consent numbers due to the wide-ranging implications of Covid-19.
"Although many new homes are built within a year of gaining consent… we will have to wait before any changes to the actual supply of homes are noticeable, including insights into completion rates."
While June's strength in consent issuance impressed economists, they also remain concerned about the uncertainties surrounding the construction industry going forward.
Westpac senior economist Satish Ranchhod says consents are running at levels not seen since the 1970s – and that is even more impressive given the disruptions to consent processing since in the level four lockdown.
"Looking across regions, consent issuance in Auckland remains strong with 14,780 new dwellings consented over the past year. That pace of issuance will allow home building in Auckland to catch up with the strong growth in its population in recent years."
With a large number of new dwellings being consented over the past year, he expects that residential construction levels will remain firm through the back half of the year. Increased spending on home renovations will also help to support employment in the building sector, Ranchhod says.
"However, as we look to the year ahead, we expect that uncertainty around the outlook will see fewer new housing projects being consented. That trend will be reinforced by the sharp downturn in net migration and population growth already in train."
For ASB senior economist Mark Smith, it will take several more months for the Covid-19 fog to clear - but, in underlying terms, regional consent issuance looks to have held up well, all things considered.
Over the coming months, he expects construction activity to pick up to complete projects which were underway prior to the lock down and to address a sizeable pipeline of consented work that needs to be done.
"Further ahead, the deep recession for 2020 (we expect a 5% fall in GDP) and a subdued demand environment (despite record low mortgage interest rates) are expected to soften construction demand and result in some construction projects being cancelled."
There could be potentially longer-lasting impacts on construction activity if New Zealand's borders stay shut or the shift in work patterns observed during Covid-19 becomes more entrenched, Smith adds.
Comments from our readers
Sign In to add your comment
www.GoodReturns.co.nz
© Copyright 1997-2022 Tarawera Publishing Ltd. All Rights Reserved