Changing consent landscape
Record levels of new dwelling consents are still being issued but commentators say trends within the consents data reveal the changing face of residential building in New Zealand.
Wednesday, October 31st 2018, 12:57PM
by Miriam Bell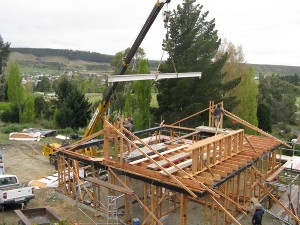 The number of consents issued in September dipped slightly (by 1.5%) as compared to August, according to the latest Stats NZ data.
But year-on-year consents were up by 5.4% to 32,548 in the year ending September 2018. Of the national total, 12,945 consents were issued in Auckland.
Further, a record 6,059 new townhouses, flats, and units were consented in the year ending September 2018.
Stats NZ construction statistics manager Melissa McKenzie says this was a 29% year-on-year increase and was largely driven by activity in Auckland.
Apartment consents were also up by 21% year-on-year.
Westpac senior economist Satish Ranchhod says the data shows consent issuance remains at elevated levels and reinforces their expectation for strong nationwide home building over the coming year.
"However, this is occurring at the same time as population growth is cooling (albeit from high levels) and house price inflation has flattened off in some areas.
"Those developments may provide some limit on how much further home building rises."
With just under 13,000 consents issued over the past year, Auckland consents remain at high levels, he says.
"If building activity continues on its current trajectory, the region will soon be consenting enough homes to start eating into its significant housing shortage."
For ASB senior economist Nathan Penny, the data shows that while nationwide consents are plateauing at a high level, townhouses consents are taking a growing share - particularly in Auckland.
The housing shortage has moved beyond Auckland and has also become evident some other areas, notably Wellington, he says.
"Nonetheless, population growth on a nationwide basis is now slowing and, as a result, we believe the level of nationwide housing construction is close to a peak.
"We expect house building activity to remain at relatively high levels over the coming years in order for housing supply to catch up to housing demand."
Meanwhile, CoreLogic head of research Nick Goodall warns that the number of consents being issued does not automatically translate into the same amount of new dwellings being built.
That's because to regenerate the housing stock many old dwellings are removed to make way for new dwellings.
This does allow for greater intensification of dwellings, which is a trend supported by the increase in consents for townhouses and apartments.
But Goodall says their data shows a significant gap opening up between the number of consents being issued and the number of dwellings being built.
"While this is largely due to the fact it takes longer to finance and build multi-dwelling buildings, like townhouses and apartments, it could also be a symptom of construction industry constraints."
Comments from our readers
No comments yet
Sign In to add your comment
www.GoodReturns.co.nz
© Copyright 1997-2021 Tarawera Publishing Ltd. All Rights Reserved