Hamilton not cheap, affordable
Is Hamilton the new black in housing development? Auckland and other investors are flocking to take advantage of the city's burgeoning, diverse prosperity.
Friday, October 31st 2014, 12:00AM
by The Landlord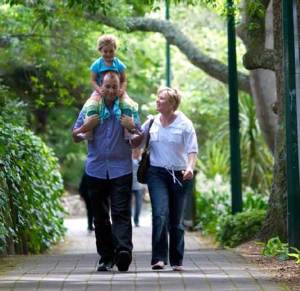 Hamilton, says Mayor Julie Hardaker, is like a teenager. It's about to grow out of that slightly awkward, insecure phase - and shoot up into a productive, exuberant city with a strong sense of identity. And Hamilton's growth spurt isn't just a reflection of national economic strength; the local economy is punching well above its weight.
The mood among local real estate professionals and investors is strongly confident, and there's one praise that keeps coming up when you ask them why they're so positive: inland port. Work is scheduled to start in 2018 on a massive inland port and commercial hub in Ruakura, right on the fringe of the city. The $3.3 billion project is being developed by Hamilton-based Tainui Group Holdings, and will service Auckland, the Bay of Plenty and the Waikato. The plans allocate space for logistics, plus residential, commercial and industrial zones. The landport is predicted to create 12,000 new jobs, only a quarter of which are likely to be filled by locals.
Supporting the development of the inland port and the city will be the Waikato Expressway, which will join the Bombay Hills to the south of Cambridge; about half of it has been completed so far. Once finished, it will make driving between the 'golden triangle' of Hamilton, Auckland and Tauranga faster and easier. All this, plus a new plan to develop the riverfront, means there's a lot to get excited about for Hamilton residents and investors.
"Hamilton sometimes gets a bad rap, but a lot of that's historic," Hardaker says. "When you come here you see the enormous growth, the roading network, and the cranes everywhere. The population growth is right, there's a great lifestyle and great schools. It's going through an enormous transformation. We're starting to move into our prime."
Two for one
Hamilton property isn't cheap, but it is affordable, with a wide range of housing types to suit most budgets.
Mark Laurence, principal at Quinovic Hamilton and Cambridge, is seeing burgeoning interest from out-of-town buyers: "A lot of Aucklanders are looking at house-and-land packages at around $500,000 which rent for $580 to $600 a week. For a Hamiltonian it might not be what they're used to spending, but for Aucklanders it's like getting two houses for the price of one."
Finding high yields can be challenging, says Laurence. There are some great deals available, but anything with a strong yield is selling fast, so investors need to be actively hunting them out, cash in hand. On the rental front, while there isn't a shortage, well-maintained properties are always easy to rent out.
New houses are at top of tenants' wish lists, with Rototuna North a favourite suburb. Quinovic manages 65 properties there, and Laurence says they are never vacant for more than a week. A client recently bought there for $469,000 and the house rents for $565 a week – "I really want one," Laurence says.
The popularity of Rototuna is a byproduct of Hamilton's general trend for northern growth, says Fraser Hamilton Coombes, manager/business partner at Online Rentals (trading as Ray White Hamilton). He has also seen high demand for Rototuna; investors can't go wrong buying a low-maintenance four-bedroom, two-bathroom family home – tenant demand is high, and turnover is low, he says.
Like Laurence, Coombes is seeing a surge in Auckland-based investors who are drawn by Hamilton's proximity, growth and affordability. Existing investors (local and expat) are adding to their portfolios, rents are increasing; there's a real buzz in the market, Coombes says.
Creative strategy dividends
Robyn Masters, a property investor and developer, and director of Quality Rental Management, says this is a "fantastic time" to be buying in Hamilton. "We're completing subdivisions, building houses and looking at small commercial lots," he says. Masters has a range of property investments across the central North Island, but says she wishes they were all in Hamilton because the returns have been so good. She's seen not only steadily rising rents, but also solid capital gains and excellent yields of 8% or more.
Masters uses a range of strategies to create high yields, most recently by creating minor dwellings and reconfiguring two-bedroom properties to create a third bedroom. She's also created a few room-by-room rentals, which she admits are demanding to manage, but the returns are worth the effort. For investors who want to buy something more straightforward in an affordable area, she recommends looking at the Forest Lake, Beerescourt, Maeroa area; or consider Fairview Downs.
"Fairview Downs is a really good up-and-comer," Masters says, "right in the middle of where there will be new residential and commercial development. Prices at the moment are quite affordable; we're looking around there. If you buy well you could pay $240,000, and have a good pull through for $5000 to $7000 – jazz it up and take it to another level as far as rental demand. That could rent for $330 or $340 a week."
Another investor who's working harder to increase his returns is John Kenel, CEO of Assured Property and Rentfast. He has been investing in Hamilton for 17 years and developing for 10 years. From his perspective the risk is very low, because everything he builds is cashflow positive, so he never needs to worry if he can't sell a property in one of his developments. Kenel started with small-scale developments in Dinsdale, but now focuses exclusively on the central city area, close to the University of Waikato, Waikato Hospital and the CBD where "location is absolutely key," he says.
Kenel, too, has made use of room-by-room rentals, developing four-bedroom townhouses that are more like four studio apartments. The big 20 to 25m2 bedrooms each have their own ensuite and kitchenette, plus TVs with Sky, high-tech security systems and a big shared kitchen and lounge area. Each room rents for $220 to $240 a week ($20 to $30 more for a couple), so each townhouse can rent for up to $965 a week. The townhouses cost around $500,000: Gross yield 10%, net yield 7.5%.
"I used to have a really diverse portfolio; I spent 12 years living abroad and I had property in Europe, the UK, and the South Island," Kenel says. "I sold it all and put it all into Hamilton and Cambridge. "
Hamilton's future
Kenel believes Hamilton real estate is undervalued and may be on the brink of a mini-boom. He names some of the large companies based in Hamilton, like Gallagher and Enlighten, which are investing heavily in research and development – the kind of spending which can have the most significant positive impact on an economy.
"I don't think there's anywhere else in the country that's growing as fast," Kenel says. He has also been looking at historic property price data in Waikato and comparing it with national trends, and says that property prices in Hamilton usually shadow Auckland prices. But three years ago, Hamilton fell behind as the Auckland market spiralled. Kenel thinks Hamilton is about to start catching up: "I'm wondering why our city is so much cheaper."
Over the next year, Coombes predicts a slow but steady positive incline in prices, plus rent increases of between 2.5% and 5%. This tallies with what Masters is seeing across her company's portfolio. Most rents increase by $10 a week with each six-monthly rent review, and she sees this pattern continuing over the next 12 months.
Looking further ahead, Hardaker points to Hamilton's unusually positive demographics. While most areas of New Zealand are set to see population growth over the next 50 years, Hamilton [along with Auckland and Queenstown] is going to see strong growth in its youthful population. While some regions will be seeing a boom of retirees, Hamilton is going to have the working-age population to drive the economy and the housing market.
Hamilton is definitely growing up, and its days as the butt of the joke are all but over, Laurence says.
"People who make jokes about Hamilton are just jealous of our beautiful lake, our wonderful river and our fabulous schools in every suburb," he says with a laugh. "People have been banking on Hamilton for decades and it's all starting to pay off."
5 QUICK FACTS
1. Hamilton's economy is performing well: at the end of March this year, an Infographics report found Hamilton's GDP was 3%, compared with 2.5% nationally. Its unemployment rate is down and net migration is 311, over double the 10-year average of 130. Retail sales were up 10.9% compared with 3.7% nationally.
2. A $3.3 billion inland port is planned for the city fringe which will improve logistics for the whole of the upper North Island, and create an additional 12,000 jobs in Hamilton.
3. The Waikato Expressway will eventually link the Bombay Hills to Cambridge, cutting travel times between Auckland, Rotorua, Hamilton and Tauranga.
4. Hamilton's future population growth is predicted to have a higher proportion of working-age people than other cities and towns.
5. The Hamilton City Council is working on a plan to "transform" the 16km of waterfront land where the Waikato River runs through the city, says Mayor Julie Hardaker. "Lifestyle, amenities and values are going to become more and more important," she says.
Thinking about building an investment property? CLICK HERE
Need Property Management for your Hamilton Properties? Try Mark at Quinovic or Derrick & Robyn at Quality Rental Management
Comments from our readers
No comments yet
Sign In to add your comment