Healthy Homes Bill progresses
Minimum standards for rental properties are set to remain on the public agenda after Labour's Healthy Homes Bill progresses to Select Committee stage.
Thursday, May 5th 2016, 10:30AM
by Miriam Bell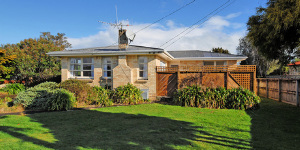 Labour leader Andrew Little's Healthy Homes Guarantee Bill (No 2) scrapped through its first reading in Parliament - 61 to 60 – last night.
The bill aims to set minimum standards around insulation, heating, ventilation and drainage which all landlords would have to comply with before they could legally rent out their properties.
Little said the Bill's progression means some of New Zealand's most vulnerable children and families are on their way towards safer living conditions.
Those who voted for the Bill, along with non-parliamentary supporters like the Children's Commissioner, are united in the belief that landlords must provide decent insulation and heating in the houses they rent, he said.
"Most landlords already do the right thing and rent out homes that are fit for purpose. This bill is for slum landlords - those who are happy to be paid for faulty and dangerous homes.
"Damp, cold, mouldy homes that make kids and families sick have no place in New Zealand in 2016. We have taken the first, important step towards ending them forever."
United Future leader Peter Dunne, who voted in favour of the Bill, said a rethink is needed when it comes to the issue of ensuring healthy homes and healthy families.
But a key issue is affordability and the Bill, as it stands, does not provide any relief for the rising costs which are likely to be passed on to renters, he said.
"It's a noble cause to want to increase housing standards but what we need to focus on is increasing the ability of renters and landlords to be able to access affordable ways of heating and future-proofing their houses.
"It's all very well to require a method of heating, but that doesn't mean much if you can't afford the increased cost of electricity."
He wants to see the government set aside funding to provide landlords and renters access to technology and resources to future-proof their homes and make them warmer and more affordable.
While Dunne supported the Bill to Select Committee, he said his support is qualified and dependent on how affordability issues are addressed.
The Bill has progressed just weeks after the Cabinet approved the final details of the new insulation and smoke alarm requirements contained in the government's Residential Tenancies Amendment Bill.
Building and Housing minister Nick Smith compared Little's Bill to the requirements in the government's RTA Bill unfavourably.
He said the Healthy Homes Bill was lacking in detail, slow in timing and unworkable in practice.
For example, it requires MBIE to develop an insulation standard but is silent on whether it applies to walls, ceiling or underfloor or to what standard – as opposed to the requirements specified in the RTA Bill.
Another example was the requirement for a landlord to maintain all rental property at a specified minimum indoor temperature, he said.
"The temperature in a home is affected not just by design but by how tenants use a property, including using heating devices, pulling curtains and managing ventilation."
Smith said the Healthy Homes Bill was a poor substitute for the government's detailed and practical measures that will make New Zealand rental properties warmer, dryer and safer.
Meanwhile, the NZ Property Investors' Federation generally supports the government's approach with the RTA Bill.
NZPIF executive officer Andrew King said that forcing expensive heating into every rental property, as the Healthy Homes Bill seeks to do, is not the right answer.
Some families cannot afford to pay for electricity and the cost of compulsory heat pumps will only push up rental prices and make it even harder for them to use their heaters, he said.
"We believe making heating and insulation tax deductible or subsidised would be a better strategy than making them compulsory, as this would reduce the pressure for rental prices to increase.
"In addition, we believe that families who have children with identified health problems should be provided with electricity vouchers during the winter months so they can turn their heater on."
Solutions that focus on the real problems and those in real need are what is called for, King added.
Comments from our readers
No comments yet
Sign In to add your comment