Boarding house business success
From a tiny deposit to a full-time landlord, it's been a successful journal for the NZPIF's landlord of the year – and now he's sharing his story.
Monday, December 18th 2017, 10:00AM
by The Landlord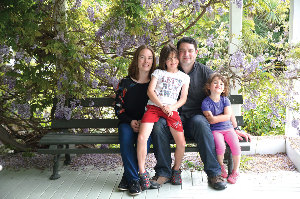 NZPIF 2017 Landlord of the Year Kerry Beveridge and his family
If cash is king, no wonder Kerry Beveridge, who is profiled in the latest NZ Property Investor magazine, is on top.
He's just been named the NZPIF's 2017 Landlord of the Year and his City Boarding House was a finalist in this year's South Canterbury Chamber of Commerce Emerging Business Award.
Beveridge and his wife have turned a relatively small amount of money into a thriving business – successful enough that he's now a full-time landlord and investor.
As a young New Zealander entering the workforce, Beveridge soon realised that working for someone else could be frustrating.
"I had a few bosses that weren't necessarily the best," he says diplomatically. "I needed another plan that wasn't reliant on employment."
His mum had always dabbled in property investment and he thought that perhaps that could be a way for him to someday become his own boss.
After doing his OE, Beveridge was living in Christchurch with $5,000 in the bank and decided to buy a rental.
Struggling to find an affordable house in pre-quake Christchurch, he cast his net wider.
He realised that he could buy a house in Timaru for $100,000, yet it would rent for about the same amount.
Heading to Timaru, he found a run down two bedroom house which had been "pretty well butchered" by the vendor.
Borrowing most of the deposit on his credit card, Beveridge bought the house, renovated it and turned the two bedrooms into three small bedrooms.
That house was not only the beginning of Beveridge's property investing career – it also resulted in him meeting his wife and starting a family.
He and his wife now own five family homes, a two unit block, a four unit block and the City Boarding House.
Property has been good to him, he says. It has found him a wife, helped him start a family, given him financial freedom and allowed him to quit his day job.
"We treat it like a business. We want to do this, we like this, and we're trying to start as we mean to continue. It's easy to look at what I do now and say how lucky we are, but people don't see the 10 years of hard work that we've done."
To read more about Beveridge and what he has learned on his property journey, click here to get the digital issue of NZ Property Investor magazine.
Subscribe to NZ Property Investor magazine here to get great stories like this delivered to your mailbox every month.
Comments from our readers
No comments yet
Sign In to add your comment