Hot in Queenstown
Queenstown and Wanaka still have excellent buying opportunities, despite high values, writes Louise Richardson.
Monday, February 5th 2018, 8:00AM
by The Landlord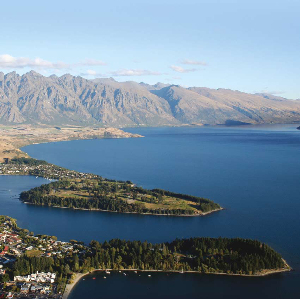 Queenstown
With its sense of romance and intrigue, its exceptional popularity with overseas visitors, and local migrants alike, Queenstown Lakes District has a uniquely complex property market and it's been subject to runaway growth over the past 30 years.
The gold rush days, which began in 1862, were good for Queenstown itself, but afterwards development was fairly stagnant and fifty years ago the town still consisted of little more than a few cribs and houses on the shores of Lake Wakatipu, with a population of just two or three thousand. It was popular with locals from Otago and Southland and the occasional tourist from further afield who arrived to check out what was the first commercial ski field in New Zealand, at Coronet Peak, which opened in 1947.
Interestingly, the Japanese were some of Queenstown's earliest large-scale modern international adopters, back in the 1980s while these days, Chinese, Australian and European visitors also abound. Marketing itself as the adventure capital of the world, Queenstown and its environs offer tramping, fishing, jet-boating, bungy jumping and much more, along with a thriving wine and food trade.
Growth phase
The Queenstown Lakes District has a current population of 37,000 and Queenstown's share of that is a permanent population of around 15,300 – already up significantly from 11,505 in 2013. It continues to grow, with new developments being built on land that stretches out well beyond the heart of the town. One of the biggest current projects is the development of property on Ladies Mile, between Queenstown and Arrowtown and further development at Arthur's Point.
The ever-expanding Queenstown International Airport brings around two million visitors to the district each year and it's estimated that the number of people in the town and its surrounds on the busiest days in high summer or the ski season is around 50,000 – or more.
While Queenstown is generally fairly full in terms of visitor stays in hotels, motels and now, increasingly, Airbnb, (although short stay lets may be restricted if proposed new rules are adopted - see sidebox), the town is most particularly full when it comes to accommodation for seasonal tourist industry workers - and this is where a savvy investor can potentially do well.
A decade's surge of foreign buyers has begun to dry up and while overseas investors will still be around, they can no longer buy existing houses, instead being required to build new stock. It is hoped, locally, that along with the Reserve Bank's loosening stand with regard to LVRs, the current rental crisis will eventually begin to abate.
There are real concerns around the numbers of teachers, police officers and fire service workers who are being forced to leave town due to lack of accommodation and the high prices of property, so it is vital that new, affordable homes are built - and that a good proportion of these come onto the rental market.
Time to buy
You can add to the mix the fact that house prices are easing - to some degree, while still sitting at almost $1 million. However, some economists are expecting a correction in the market so it's possible that this figure could yet fall. In October REINZ's median sale price in the Queenstown Wakatipu ward was $955,000 up 4% on October 2016. There weren't enough sales in the nearby Arrowtown ward to be statistically viable.
Local estate agent Shaun Casey of One Agency agrees that the market is cooling just a little - after its peak in June but he doesn't expect it to stay that way for long.
"When you can get more than $1000 per week letting out a three-bedroom house you'd be crazy not to invest here, and landlords know that. There's a new development at Hanley Downs where about 30% of the properties went to owner occupiers and the rest to investors. There's always a waiting list of people wanting to buy in those subdivisions."
Casey says that contrary to public opinion, most properties he sells go to New Zealanders. "They might have started off somewhere else but they're definitely kiwis – a lot of them come from Auckland because they're so over the prices there and they want a change of lifestyle."
Meanwhile, market rents in Queenstown, Frankton and Arrowtown are holding steady at a median price of $450 for a one room apartment, $650 for two bedrooms and $750 for three. Flats are at $360 for one room, $550 for two and $660 for three. Houses bring in less than apartments but a sought-after five-bedroom property has a median rent of $1250, rising to $1750 in the upper quartile. Rents are generally a little lower in the centre of the town although a desirable single room yields a median $455 - compared with $225 in suburban Queenstown, Frankton and Arrowtown.
Locals are also starting to look hard at picturesque Kingston, which sits at the other end of Lake Wakatipu – 40 kilometres away, as a potential hot spot. The drive is about 30 minutes and prices are still affordable with a number of two- and three-bedroom houses still selling for under $500,000.
Wanaka in demand
An hour's drive in the other direction from Queenstown, over at Wanaka, growth has been less rapid than in the adventure capital but it's still a resort town in the grips of a very busy property market, with a population that has increased by 50% between 2005 and 2015. Essentially, Wanaka offers similar attractions to Queenstown, with rafting kayaking, hiking, water skiing, wakeboarding, sailing and mountain biking. It too is home to a highly regarded food and wine scene.
Less commercialised than Queenstown, Wanaka is particularly popular with Otago and Southland retirees and the biennial Warbirds over Wanaka air is a huge international drawcard.
As far as rents go, certain types of accommodation fetch similar prices to Queenstown but overall, yield is less. The median rent for a two-bedroom apartment is currently $405, with three bedrooms at $500. Flats are at $300 and $350 for two to three bedrooms, respectively. A three bedroom house brings in $530 and a four bedroom is at $625. A single room has a median rent of $170.
Home & Co's Colleen Topping, a recent South Island finalist for Property Manager of the Year has lived in Wanaka for 14 years and watched the town steadily growing.
She says that in terms of investment there are no bad areas so if landlords want to buy there, they'll be making a wise decision. "There's a real shortage of long-term rental properties and loads of people looking. We're showing a three-bedroom house tomorrow and there are 23 parties booked in to see it."
Topping notes that while there are big subdivisions currently being developed many are still awaiting titles. "We're seeing that there's interest in the Cardrona end of town and also Albert Town where they've put in amenities such as preschools and cafes. Albert Town is really a part of Wanaka now, things have grown so much," she says.
Many of those seeking Topping's services are coming from Auckland and even Australia. "People know that this is a great place to bring up a family and with so much work being done remotely now, a move is increasingly feasible."
She says that with more people, come more commercial buildings and other amenities and she really can't see Wanaka's growth slowing at any time soon. "I've got all these good quality tenants and now we just need investors to buy houses for them!" she says.
Comments from our readers
No comments yet
Sign In to add your comment