Tiny house big investment
Tiny homes are currently trending but do they make a good investment? It pays to find out more about what is happening in this space.
Monday, May 7th 2018, 10:00AM 1 Comment
by The Landlord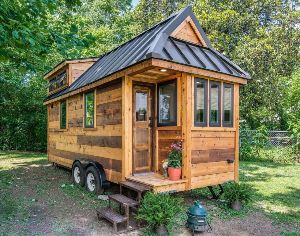 The traditional investment property is a three-bedroom standalone home on a big section, occupied by mum, dad and two kids.
But every part of that picture is changing.
New Zealand households are getting smaller, houses are giving way to medium-density living and tenants are favouring low-maintenance properties.
While one end of the market wants an en-suite on every bedroom, at the other end of the market there's been a revolution towards smaller, "smarter" homes.
Houses built in more efficient ways, to house fewer people and take up less space.
And as you might expect, there are opportunities for investors who know how to read the market and run the numbers.
From tiny houses to prefab homes, this is the cutting edge of disruptive construction technology.
Tiny houses are transportable dwellings that are around 8 by 2.4 metres and contain a bedroom (sometimes two), kitchen and bathroom.
They cost around $100,000 to $120,000 and they've recently been making a splash among first-home buyers, eco warriors and downsizers.
Investors haven't been far behind.
"We've had a significant amount of people looking at them from a rental perspective," says Gina Stevens, director of Build Tiny.
"People who've got the land and want to maximise the return they can get from that land. They're really popular on Airbnb; when people go to look for a place to stay they want somewhere unique."
They have not seen anything at the developer scale yet, due to council restrictions – there's a lot of work to be done in that area, she says.
"It's mainly the 'mum and dad' investors looking at this. Because the tiny homes are temporary, it leaves your options open.
"You might have plans for the land in the long term, but in the short term you make some money from it. Then you can just tow it away."
Other options for investors wanting to pursue the provision of non-traditional rental spaces include transportable units, portable cabins and permanent pre-fabs.
To read more about the investment opportunities in such new housing strategies, click here to get the digital issue of NZ Property Investor magazine.
Subscribe to NZ Property Investor magazine here to get great stories like this delivered to your mailbox every month.
Comments from our readers
Sign In to add your comment