Developers keen on KiwiBuild tender
The Government's KiwiBuild "buying off the plans" tender has attracted strong interest from developers, according to the Housing Minister.
Wednesday, June 13th 2018, 2:00PM
by Miriam Bell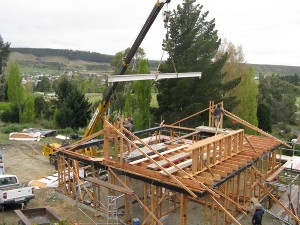 The "buying off the plans" initiative is one of the ways the Government is aiming to build affordable homes for people to buy as part of KiwiBuild.
Housing and Urban Development Minister Phil Twyford says they received almost 100 proposals from developers in response to the tender which closed last Friday.
While early market testing suggested they would get a healthy response, they did not envision this level of interest, he says.
"It shows that the people who actually know how to build the homes this country so desperately needs are right behind KiwiBuild."
Twyford says it can be challenge for developers to pre-sell the amount of dwellings necessary to get funding for the construction of a development.
That means that developments can sometimes stall or be shelved.
There are many examples of this in Auckland where a number of promising sounding apartment developments have not got off the ground in recent years.
Twyford says that by underwriting or pre-purchasing homes in a proposed development – as in the "buying off the plans" initiative - the Government can provide developers the certainty and backing they need to proceed.
"In return, we're accelerating the speed of these developments and ensuring they offer more affordable housing, so more first-home buyers can get onto the property ladder."
To date, it remains unclear how many actual homes might be delivered as a result of the initiative.
But it looks as though the Government hopes they will make up a big percentage of the 1,000 new KiwiBuild homes it aims to complete over the 2019 financial year.
Twyford says the next step will be for the KiwiBuild Unit to evaluate all the proposals and advise which ones are suitable to progress to commercial negotiation.
Some have cast doubt on the "buying off the plans" initiative - and there is also widespread concern about construction industry capacity generally.
But REINZ chief executive Bindi Norwell says they believe that the KiwiBuild programme will make a big difference to housing supply and affordability around the country.
These affordable homes need to be built as quickly as possible though, she says.
"Initiatives that facilitate new builds such as helping with funding by pre-purchasing or underwriting homes, removing red tape and speeding up the build process are to be welcomed."
Read more:
Comments from our readers
No comments yet
Sign In to add your comment