Auckland consents reach record levels
New dwelling consents in Auckland are reaching record annual levels but the region still needs a decade of strong construction to deal with its supply shortage.
Friday, September 28th 2018, 3:00PM
by Miriam Bell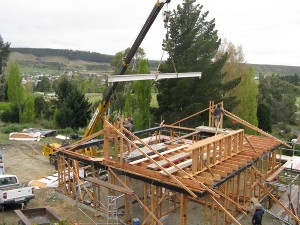 The latest Stats NZ data shows that a record 12,959 new dwellings were consented to be built in Auckland in the year ended August 2018.
That's a 26% increase on the previous August year.
Stats NZ construction statistics manager Melissa McKenzie says the 12,959 consents issued is very similar to the high levels seen in the year ended June 2004 (12,937) and in the mid 1970s.
"While the number of homes consented in the last 12 months is similar to the previous peaks in 1974 and 2004, Auckland's population has increased significantly over that time."
The 2004 peak in consents was mainly driven by growth in the number of apartments, but this new record is also driven by townhouses, flats, and units; and retirement village units, she adds.
Of the 13 wards that make up the Auckland region, 11 consented more new dwellings in the August 2018 year, as compared to the August 2017 year.
Westpac senior economist Satish Ranchhod says the details of the strong August result show that Auckland is continuing to push onwards and upwards.
There has been a large increase in medium-density homes, which will be important for addressing the region's housing shortage over the coming years, he says.
"But there has also been a significant increase in the number of standalone homes being consented. This lift has been encouraged by regulatory changes, like the Unitary plan."
Ranchhod says that home building in Auckland is ramping up at the same time as population growth is starting to cool (albeit, from high levels).
"There is still a way to go, but if building activity continues on its current trajectory Auckland will soon be consenting enough homes to start eating into its significant housing shortage.
"Nevertheless, the region will require around a decade of rapid home building."
Meanwhile, the number of new dwelling consents issued nationwide came in at 32,759 in the year ended August 2018.
This was a 6.6% increase from the previous August year, but was still below the record 40,025 consented in the February 1974 year.
In seasonally adjusted terms, new homes consented rose 7.8% in August 2018 as compared with July 2018, but following an 11% fall in July 2018 from June 2018.
Ranchhod says that was a larger increase than they expected – they were forecasting a rise of 3%.
There is a large amount of construction work planned over the coming years, and they expect home building activity will remain elevated for an extended period, he says.
"However, the construction industry has long highlighted difficulties with capacity and labour, which may provide some brake on how fast activity can ramp up to meet demand. Rising costs are also likely to be a challenge."
Comments from our readers
No comments yet
Sign In to add your comment