Slow, halting growth path for consents
New building consents fell back sharply in December 2017 but commentators are predicting they will pick up again in 2018.
Friday, February 2nd 2018, 12:00PM
by Miriam Bell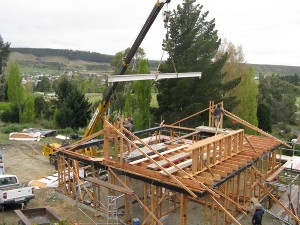 Statistics NZ's latest consent data shows that the number of new dwellings consented fell by 9.6% in December, reversing a 9.6% rise in November.
In actual terms, the total number of new homes consented was 2,169 in December 2017 – down 1.6 percent from the same month in 2016.
Statistics NZ construction statistics manager Melissa McKenzie says this was driven by a fall in the number of stand-alone houses consented.
Despite the fall, they still account for the lion's share of all new homes consented, she says.
"The fall in stand-alone houses consented was more than offset by a large rise in new apartment units consented during the year."
Overall, the total number of new homes consented in the year ending December 2017 was 31,087 – which was an increase of 3.4% from 2016.
Many regions saw strong year-on-year growth in consent issuance.
That includes supply strapped Auckland and Wellington, which were up by 8.4% and 15% respectively as compared to 2016.
McKenzie says Auckland saw 10,867 new homes consented in 2017 - the highest level since 2004.
Commentators noted December's decline in consent issuance but believe that construction demand and, in turn, consent issuance is set to remain strong.
ASB senior economist Jane Turner says some of the volatility in consent issuance can be attributed to lumpy apartment consents.
"However, it's likely that uncertainty around the new KiwiBuild policy is temporarily weighing on housing construction demand.
"If this proves to be the case, we expect that consents will recover in coming months once further policy details are revealed."
She says ASB continues to expect further growth in Wellington housing construction over 2018 and for Auckland activity to hold up at very high levels.
For Westpac senior economist Satish Ranchhod, consent issuance in December was weaker than they had expected but largely due to the volatile multiple consents category.
But he says annual issuance in Auckland remains firm and includes a growing number of medium to high-density homes.
"We expect building levels in Auckland will continue to rise gradually over the coming years.
Ranchhod says that, overall, they expect the level of residential building activity will remain elevated for some time – but that it will increase at a gradual pace over the next few years.
"As we've highlighted for some time, rising costs, as well as difficulties sourcing skilled labour and credit have provided a brake on activity."
Consistent with this, annual consent issuance has failed to break materially higher over the past year, he adds.
Comments from our readers
No comments yet
Sign In to add your comment