Consents down yet construction growth forecast
New dwelling consents fell in June but experts believe the construction sector's drive towards increasing supply is still characterised by solid growth.
Tuesday, July 31st 2018, 12:00PM
by Miriam Bell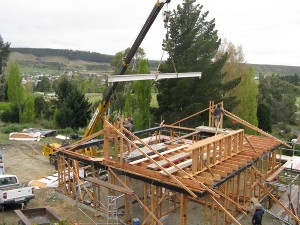 The latest Stats NZ data shows that the number of new dwelling consents issued fell by 7.6% in June, once seasonally adjusted.
But the decline follows on from a particularly strong May, which saw a 6.9% rise in the number of new dwellings consented.
Further, in the year ending June 2018, the actual number of new dwellings consented was 32,860, which was an increase of 7.9% from the June 2017 year.
In Auckland, there were 1,001 new dwellings consented in June. While this was down on May's 15 year high of 1,530, it was up on the 906 consents issued in June 2017.
It also took the number of new dwellings consented in Auckland in the year to June 2018 to 12,369 which was a 19% increase on the year to June 2017.
However, the actual number of new homes consented in both Auckland (1,001) and nationally (2,792) were up compared with June 2017.
Wellington also saw strong year-on-year growth in new dwelling consents. There were 2,781 new homes consented in the region, up 29% from the previous year (2,155) and a record high.
ASB senior economist Jane Turner says that, despite the June fall, consent issuance has been surprisingly strong over the second quarter of this year.
This suggests any election-related has now passed. "Robust building consents issuance suggests some upside to our residential construction forecasts," she says.
"But a key concern is that capacity constraints in the construction sector may hold back activity growth, despite strong demand."
Turner adds that the relatively fast response in new housing construction demand outside of Auckland means they expect that these shortages in many areas will be resolved over the next year or so.
Westpac senior economist Satish Ranchhod agrees consent issuance remains strong, with June's fall actually smaller than they had expected.
He says the underlying picture for home building in Auckland remains strong and reflects a shift to increased housing density in the region – which is important to address the region's shortage.
"In fact, if the pace seen in recent months can be sustained, Auckland will finally be consenting enough homes to start eating into its large housing shortage (though the region will still need around a decade of rapid home building)."
Westpac expects to see home building rising over the coming years and for the level of construction to remain elevated.
"However, the construction industry has long highlighted difficulties with capacity and labour, which may provide some brake. Rising costs are also likely to be a challenge."
Meanwhile, the 2018 National Construction Pipeline Report, which was released Monday, indicates the construction sector is set for a period of sustained growth over the next six years.
It also projects that national dwelling unit consents will reach historic highs, with evidence of this in Auckland's current consent levels at the highest level for 15 years.
Minister for Building and Construction Jenny Salesa says New Zealand's traditional construction boom-bust cycles have undermined the certainty and confidence needed to grow skills and sustain a robust workforce over time.
"Gains made in peak periods dissipate and the effort to gear up again has taken energy that could have been more usefully applied to supporting innovation and efficiencies.
"But greater confidence and certainty within the construction sector will provide a more stable foundation as we embark on the decade-long KiwiBuild project to deliver an additional 100,000 modest starter homes into the market."
The report also finds that Auckland's new housing will increasingly rely on apartments (multi-units) and that shift is already becoming obvious in the latest consent data.
Comments from our readers
No comments yet
Sign In to add your comment