What's up with home building?
More new dwellings desperately need to be built but recent construction data and outlook releases leave us asking what is going on in the residential building sector.
Thursday, May 30th 2019, 12:36PM 1 Comment
by Miriam Bell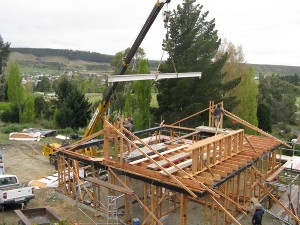 On Wednesday, the latest ANZ Business Outlook Survey revealed that residential construction intentions have fallen sharply again – despite the ruling out of a capital gains tax.
They were down another seven points to a net 27% expecting lower activity, which is the weakest since 2009.
Now Stats NZ's latest dwelling consents data is out and it shows that, once seasonally adjusted, the number of consents nationwide fell by 7.9% in April, after dropping by 7.4% in March.
There were 2605 dwelling consents issued nationwide in April and that was down on the 2729 in April 2018.
While the consents issuance trends remains high by historical standards, this new information does beg the question of what it means for residential building activity – especially given widespread housing shortages.
ASB senior economist Jane Turner says they believe house-building activity is likely close to a peak.
"But we expect residential construction activity to remain at high levels over 2019 in order for housing supply to make up the shortfall which has emerged in recent years. "
She says April's fall in consent issuance may be due to fewer working days than normal and not-unusual monthly volatility in the apartment sector.
"The underlying trend in dwelling consent issuance remains positive and Auckland, Waikato and Wellington residential consents remain at a very high level."
Westpac senior economist Satish Ranchhod agrees. He says there continues to be strong levels of issuance in Auckland, where 13,800 new dwellings were consented over the past year.
There's also strong consent issuance in other areas, like the Waikato and Wellington, and Canterbury is holding at firm levels, but the home building cycle is easing in areas like Northland and the Bay of Plenty.
Ranchhod says they expect building activity to take another leg higher over 2019, with strength in residential, commercial and infrastructure work over the coming year.
"However, it looks like the peak in the nationwide construction cycle is fast approaching. We expect this to occur in 2020. In part, that's due to the continuing winddown of post-quake rebuild work.
"Beyond 2020 we don't expect to see the sort of large increases we saw in previous years and, in some regions, there could be modest declines."
That's because home building activity is now more commensurate with population growth and, while population growth is currently elevated, we expect it will gradually ease back, he adds.
Additionally, ANZ chief economist Sharon Zollner points out that the construction sector is facing cash-flow and credit constraints.
Comments from our readers
Sign In to add your comment