Demand is keeping prices resilient
Stronger than anticipated demand from property buyers is helping to keep prices nationwide buoyant – and solidly up on last year - in the post-Covid housing market.
Thursday, July 23rd 2020, 1:01PM
by Miriam Bell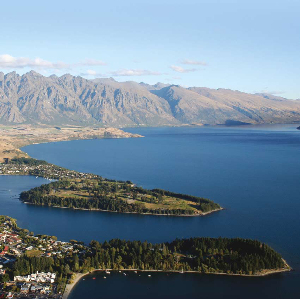 Queenstown
That's according to Trade Me Property spokesperson Aaron Clancy, who says they are seeing increasing demand for property with listing views nationwide up by 21% in June, as compared to the same time last year.
Demand is much stronger than they would've anticipated just after the lockdown, he says.
"It seems, as life has started to get back to normal for many Kiwis, some have decided to continue with their plans to purchase a property.
"Time will tell if this is sustainable or a short-lived sugar rush from pent up demand during lockdown."
June saw higher demand for property listings than in June 2018 or 2019 and demand was up right across the country.
The biggest spikes in demand were seen in two central North Island regions – Manawatu/Whanganui (up by 39%) and Hawke's Bay (up by 45%) – and also from young buyers aged 18-29 (up 52%).
Yet at the same time the latest Trade Me Property Price index shows the number of properties available for sale in June was down by 8% when compared with June 2019.
Clancy says the increased demand is putting pressure on prices with the national average asking price rising by 7.8% year-on-year to $699,350 in June.
"Every region in the country saw an annual increase in average asking price in June, with some regions reaching all-time highs.
"The provinces in particular had a strong June and we saw record-breaking average asking prices in Manawatu/Whanganui, Gisborne, Nelson/Tasman, Southland and Waikato."
Trade Me's June data showed the Auckland region's prices are growing at a slightly slower rate than national prices – but they were still up by 5.3% year-on-year to an average asking price of $934,850 in June.
Clancy says that, following the national trend, demand in the Auckland region was on the rise with listing views up by 19% year-on-year in June.
"Last month, the total number of properties available for sale in the Auckland region was down by 13% when compared to June last year, but up by 10% when compared to May 2020."
In the Wellington region, the average asking price was up by 8.5% year-on-year to $697,600. Clancy says interest for property in the region is still at unprecedented levels.
The number of views on properties for sale was up by 24% year-on-year but the number of properties for sale down by 13% year-on-year in June, he says.
"The Wellington property market is running particularly hot at the moment, anecdotally we're hearing that open homes are busy and buyers are having to get in quick to secure the property they want."
Meanwhile, there were a few surprises in the June data on the Otago region.
Clancy says there are predictions that the property market in Queenstown-Lakes and Wanaka could be some of the hardest hit by Covid-19 as a result of the slowing tourism industry.
However, last month they actually saw demand for property listings increase (by 36% year-on-year) across the region.
"Demand for properties in Wanaka rose a solid 51% when compared June last year and it was a similar story in Queenstown-Lakes district with a 58 per cent jump in demand."
On the other hand, the trajectory of the average asking price differed between districts, Clancy adds.
In the Otago region it was up by 14% year-on-year to $661,350 and in Wanaka it was up by 11% year-on-year to $1,161,000
"But in the Queenstown-Lakes district it decreased for the second month in a row in June, falling by 5% when compared to the same month last year."
Comments from our readers
No comments yet
Sign In to add your comment