200 issues: Top Regions Revealed
Joanna Jefferies takes a look at the top 12 locations for property price growth and gains across New Zealand since 2003 and discovers previously unknown property hotspots.
Friday, July 31st 2020, 7:30AM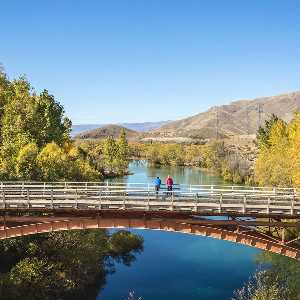 Mackenzie District
New Zealand's housing market has had an incredible run over the past 200 issues of NZ Property Investor. Since it began in late 2003, property owners have enjoyed considerable gains in value across every region in the country. But not all areas have been equal. There have been some standout performers in both the North and South Islands – some surprising, some obvious.
The top earners
In general, the regions with the greatest dollar gains since 2003 were among the most expensive regions in 2003 – you had to pay more to buy in these areas, but the capital gains have repaid your investment.
Queenstown-Lakes
Queenstown-Lakes District took the top prize for dollar gains, with average house values rising by over $710,000 since the end of 2003. It was already the most expensive place to buy a house in 2003 and remained so in April 2020.
Its continued success has been driven by the massive tourism boom for the region and huge growth in employment – underpinned by Queenstown's natural beauty and year-round activities. Houses have been severely unaffordable for locals and rentals have been hard to find.
However, with tourism in the area likely to be seriously dented by travel restrictions this year, affordability may increase. Although a massive earner in dollar gains, Queenstown-Lakes only saw 141% growth, which put it at the lower end of the growth list among the 65 territorial authorities.
Auckland
Auckland had outstanding gains in terms of dollars – up almost $700,000 over the 16.5 years – and good growth at 184%, putting it in the middle of the pack. It was New Zealand's second-most-expensive area in 2003 and held its place in 2020. Experienced Auckland property investor and APIA president Andrew Bruce started seriously buying rentals in about 2004, and says the capital growth has been brilliant, although returns are hard to find.
"I'm very bullish on Auckland," says Bruce, who says Covid-19 might have caused "a significant hiccup", but that the future of the city looks very bright for investors with long horizons.
"Look at the amount of infrastructure going ahead right now: the Sky City Convention Centre, Commercial Bay, the City Rail Link; they all attract people into the city. Yes, there will be people who'll say it's too expensive, and some will move out, absolutely. But there's still a truckload of people coming in, because people do want to live here – there's always demand."
Greater Wellington
Demand is also high in Wellington, which has seen impressive gains since 2003, up almost $550,000 for the average property. Neighbouring areas Porirua City, Upper Hutt, Lower Hutt and Kapiti Coast have all made it into the top 12 for biggest gains over the past 16 years. Porirua was the 15th costliest region in 2003 but has now risen to seventh.
"There's been a flow-on effect as values have gone up and up in Wellington," says Porirua-based investor Suzanne Taylor, who also works for iFindProperty. "People have gone north into Porirua, the Hutt Valley and Kapiti Coast. Once Transmission Gully is finished it will open up that area even more."
Taylor says she started buying and trading in early 2013, at which point she could buy a three-bedroom weatherboard house in Porirua for under $200,000; "Now you're lucky to get anything, even in original condition, with a five at the start [of the price]."
As New Zealand went to level two of lockdown, Taylor listed for sale a three-bedroom weatherboard house, with a concrete tile roof, located in Raānui. It sold for just over $600,000, in a multi-offer situation, after five days on the market.
"It's amazing to reflect," she says. "We used to celebrate if we got a three [$300,000-plus sale price], then it was a four, then a five. Now it's a six. There's still a scarcity of houses, with motivated purchasers."
Tauranga and Western Bay of Plenty, Thames-Coromandel
Once again, we see the ripple effect in action. Tauranga was once a sleepy seaside holiday spot, famous as a popular retirement locale. However, as Auckland house prices became increasingly unaffordable, Aucklanders realised their money could buy them a lot more out of the Super City, and many chose Tauranga as their new home. Tauranga values have risen by $463,000 since late 2003 (up 149%).
As Tauranga prices rose, people also looked to the surrounding Western Bay of Plenty District, particularly Papamoa, which has seen an explosion in development over the past decade. As a result, values in Western Bay of Plenty District are up by around $446,000, representing growth of 169%. It has risen from ninth on the most expensive regions list in 2003 to sixth in 2020.

Thames-Coromandel District also benefited from relocating Aucklanders fleeing the booming house prices of 2012 to 2016, seeking a better lifestyle and more house for their money. It has also become a popular retirement spot and its economy has been boosted by the tourism boom of the past five years. Thames-Coromandel was our third-most-expensive district in 2003; by 2020 it was overtaken by Wellington City and now sits fourth.
Top growers
The areas with the highest value growth tend to be those that had inexpensive housing in 2003 and have experienced economic and population growth. Half of the top 12 growth regions were also in the top 12 for most affordable houses back in 2003 – but only Ruapehu (now fourth-cheapest), Rangitikei (11th) and Waimate (12th) are still on that list.
South Waikato, Waipā, Ōtorohanga, Kawerau
South Waikato, Wāipa and Ōtorohanga are clustered together south of Hamilton and to the west of Rotorua. All three have seen massive house value growth since 2003 as industry in the region has accelerated. Kawerau, east of Rotorua, has also performed well.
South Waikato has experienced the most dramatic house value growth of any region in New Zealand, with average prices up from just $65,000 in 2003 to $306,000 in 2020, up 372%. It was the second-cheapest district in 2003, but has now jumped to 14th-cheapest out of 65, overtaking most of the West Coast territorial authorities where population growth has been limited.
Waipā is a stand-out, one of only two areas that appear on the top 12 lists for both growth and gains, alongside Mackenzie District. The region saw average values rise from $174,000 in 2003 to $648,000 in 2002, a gain of $474,000 and growth of 273%. South of Hamilton, Waipā has benefitted from both dairy and meat- industry growth and increased tourism. It has also experienced the ripple effect from Hamilton's rapidly growing population and rising prices.
Ōtorohanga touches the west coast of the North Island, and property values there have grown 251%, but you can still pick up an average property for $370,000. Kawerau struggled after its paper mills closed, with average values at $62,000 in 2003. In recent times more manufacturing and processing plants have opened, leading to jobs and a better economic outlook – values have jumped 368% to $291,000, so it's still very reasonably priced. In February this year the Government announced a $19.9 million investment in Kawerau, creating 150 jobs and developing both infrastructure and industry.
"The smaller provincial towns have done really well – it's partly the ripple effect from Hamilton," says local investor and trader Rachel Ward. "Cambridge has taken off and so have those rural areas that aren't dependent on a single industry. I wish I'd gone out further!"
Ward says all these districts have flown under the radar when it comes to media attention; despite the lockdown she's optimistic about the entire region: "This is a great place to be because it's not just reliant on tourism. We've got the rural sector, which is still in demand, and there's a lot happening with technology."
Mackenzie District and Waimate
Mackenzie District is the second of two territorial authorities that features on both lists: it's had both outstanding gains, with average prices rising from $140,000 to $600,000 over 16 years, and exceptional growth of 327%.
"Mackenzie has boomed because Queenstown and Wanaka have become too expensive," says investor and agent Lewis Donaldson of Ray White. "People from Timaru and Christchurch who want holiday homes need a million dollars to buy a half-decent house in Wanaka. But for half a million in Twizel you can get lake and mountain views and it's only a few hours' drive. If you like walking, mountain biking, fishing or boating, it's lovely."
Donaldson's seen the MackKenzie District boom first-hand: his Timaru-based mother inherited $72,000 in 2002 and bought "the cheapest house in Twizel" for exactly that sum. The family still owns the property, and the very similar house next door just sold for $450,000. They often rent the house out for short-term guests – families visiting for rowing events and builders working on local developments.
Adjoining Waimate has also performed well; in 2003 you could buy an average house in Waimate for just $82,000. Now it will cost you closer to $300,000, with growth of 255%. The region has been experiencing major economic growth, with a thriving dairy sector and burgeoning tourism.
Manawatu and Whanganui
The central North Island has traditionally provided very affordable housing options, with Ruapehu, Rangitikei and Waimate districts all still among the top 12 most affordable regions in New Zealand.
Stratford has had an impressive rise. New Zealand's fifth-cheapest region in 2003, with average values of $79,000, it has passed areas like Tararua and Gore to jump to 15th cheapest. Stratford has benefited from the expansion of New Plymouth and the success of the dairy and meat sectors.
Across the Manawatu-Whanganui region, the dairy and meat industries plus tourism and rising populations have driven impressive housing market growth. Investor favourite Whanganui is up 282%, Rangitikei has risen 279%, Horowhenua and Ruapehu are up 277% and Manawatu is up 257%. Ruapehu and Rangitikei remain two of New Zealand's most affordable territorial authorities, with average house values still a nudge below $250,000 and $286,000 respectively.
Picking future hotspots
After more than 16 years of issues, there are a few outliers in the data, but we can clearly see some general rules that investors can use to find growth hotspots of the future. The ripple effect is perhaps the most obvious. It works at street level, at suburb level and at regional level: if you have a popular and fast-growing hotspot, its success is likely to spread to its neighbours. Cheaper adjacent alternatives to that hotspot you can't afford are a good bet for growth.
The next important factor is industry – jobs and investment. Any city or town where there is a new plant being built, a port expansion, a transport hub, or a government-funded infrastructure project is likely to see growth. Jobs and spending stimulate the economy, bring people to a region and grow the population, which ultimately drives demand and pushes values higher.
Comments from our readers
No comments yet
Sign In to add your comment