Flood of new investors unlikely even if Government changes
Wednesday, October 4th 2023, 10:59AM
by Sally Lindsay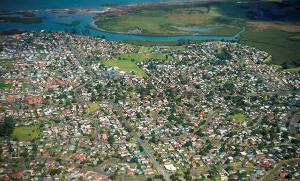 While a National-led Government may result in house prices rising more than otherwise might have been the case, the impact might be relatively muted, Kelvin Davidson, CoreLogic's chief property economist says.
He says housing market confidence seems to have turned a corner, supported by a rough peak for mortgage rates, high net migration flows, a still-solid labour market, and an easing in credit conditions. "A growing expectation that National may lead the next government, with more property friendly policies, may well be playing a role as well, but he says it is unlikely to lead to a flood of new investors in the market.
"For example, the potential phased reinstatement of mortgage interest deductibility will tend to add some demand to the market, but a smaller tax bill won't change the fact that rental yields are still low and mortgage rates high, requiring a new property investor to put a significant cash top-up into the property to keep it going." This is not likely to appeal to investors, particularly those chasing cash flow.
CoreLogic's latest lasted House Price Index shows property values across the country flat-lined last month, dropping by a rounded $20, most likely ending the 17-month slump.
Nationally, average values stabilised at $905,445, compared with $905,466 in August. The three-month change sits at -0.6%. From March 2022's peak, the total fall has been 13.2%, although average values remain 24.3% higher than pre-Covid in March 2020.
Around the main centres the wider Wellington area was flat last month, with Christchurch and Dunedin edging up by 0.2% apiece. The most notable main centre was Auckland, where values rose by 0.4% – the city's first increase since March last year.
CoreLogic's chief property economist, Kelvin Davidson says it was only a matter of time until property values found their floor and started to rise again. "It's this emerging growth we're starting to see in the data, although there's quite a bit of diversity across the country."
However, the signs of a turning point for Auckland, Christchurch, Dunedin and Wellington in September were not replicated in Tauranga and Hamilton, where values continued to fell by 1.2% and 1.5% respectively.
"This patchiness among the main centres may well continue in the coming months, and is likely to be a feature elsewhere as well. While the market has broadly reached a trough, we're not expecting the next phase of growth to be swift or sudden either given mortgage rates remain challenging for many households."
Although the average property value across Auckland rose in September, the increase was not seen in all sub-markets. Papakura, Manukau, and Rodney all recorded gains, as did Auckland City, but North Shore and Waitakere both edged down 0.1%, and Franklin dipped 0.4%.
"Auckland property remains pricey, whether you're a first home buyer, investor, or relocating owner-occupier. This will be restraining demand in some locations. But it's less expensive than it used to be, and this may just be kick-starting activity in other parts of the super-city," Davidson says.
Wellington is another key area where some signs of growth have emerged in recent months, but there's also evidence of continued caution. For example, Porirua's average property value rose by 1.1% in September, but after increases in the prior month or two, Upper Hutt and Wellington City just eased back again slightly.
"Patchiness is a word I've been using quite a bit lately to describe the market at this point in the cycle, and Wellington is a good example of that," he says.
Outside the main centres, the changes in property values in September were also a mixed bag. Gisborne, Napier, Invercargill, Hastings, and Whanganui had solid increases, but New Plymouth and Whangarei each fell by close to 1%.
Queenstown also saw a drop in average values last month, of 0.4%, leaving it down by 2.8% over the past three months.
"Queenstown remains one of the most resilient parts of the country, but the latest figures are a reminder that it's not totally bullet-proof either," Davidson says.
Outlook
Given the general election in 10 days and possible uncertainty around any subsequent coalition talks, property market indicators could remain "jumpy" for the next month or two, especially when it comes to activity measures such as new listings flows and agreed sales volumes, he says.
Once any election-related disruptions have faded into the background, Davidson says a clearer upwards trend should become apparent for the property market, with sales and prices rising into next year. "That said, the emerging growth could be pretty muted by past standards, given that housing affordability is still problematic, mortgage rates aren't set to fall anytime soon, and there's also still the real possibility of caps on debt to income ratios next year."
If DTI restrictions become the central expectation, some investors may look to bring forward purchases, if they fear not being able to buy at all after any rule changes.
That could make things trickier for first home buyers for a while, after a period where they've enjoyed reduced competition from other buyer groups, Davidson says. But after any DTI restrictions are imposed, first home buyers may find conditions more to their liking again, he says.
Sales steady
Meanwhile for the second month in a row Barfoot & Thompson's residential sales held on to the gains first felt in August and prices remained stable.
The 825 property sales were the second highest for a month in the last 21 months, and while down 6.1% on August's figures, they were a third higher than in September last year, Auckland's biggest residential agency's figures show.
The median sales price for the month at $987,000 remained constant and underlines the nosedive in the price cycle has likely run its course, Peter Thompson, Barfoot & Thompson's managing director says.
It's the second consecutive month the median price has increased and is 3.4% higher than July's median price of $950,000, the lowest median price in nearly three years.
The average sales price in September was $1,058,771, which was down 2.7% on that for August.
Thompson says the prospects for a healthy recovery in the housing market leading into Christmas look promising.
Properties valued at under $750,000 figured prominently in September's sales, with 26.3% of all sales being in this segment of the market, highlighting the growing prominence apartment and town house sales are playing in Auckland, and the vastly increased property options available to first-time buyers.
He says the change in emphasis away from stand-alone housing towards multiple properties on a single site has now reached the point where it is lowering the entry point for home ownership for a great number of people.
At the top end of the market 41 properties sold for more than $2 million, while nine of these sales were for $3 million or more.
More options are on offer with 4,192 properties on the agency's books at month end. During the month 1,469 new properties were listed, the second highest number this year.
Asking prices flat – listings down
Realestate.co.nz's data for September shows the national average asking price for residential property stayed flat last month at $871,400.
In the main centres, Auckland was up 0.4%, Wellington, down 0.4% and Canterbury, down 1.6%. Compared to September last year, average asking prices were down 5.3% nationally and by varying degrees in most regions.
Bucking the trend was the West Coast, where average asking prices rose by 21.2% year-on-year. The average asking price in Central Otago/Lakes also increased by 2.3% year-on-year.
However, the average asking price in all regions above half a million for the first time.
A new record has been set for the West Coast, which hit an all-time high average asking price during September, reaching more than $500,000 for the first time since records began in 2007. The average asking price in the region last month was $515,183.
While the West Coast was the last region to tip over $500,000, finding property in New Zealand for under half a million is still possible.
Realestate.co.nz spokeswoman Vanessa Williams says a quick search on the website shows more 3,200 houses listed for $500,0000 or under right across the country. "Buyers looking for more cost-effective housing may need to look a little beyond their backyard to find them."
Nine of 19 regions monitored by realestate.co.nz had the lowest new listing numbers for any September on record last month.
Waikato, Gisborne, Hawke's Bay, Wellington, Otago, Southland, Central Otago/Lakes District, Wairarapa, and Manawatu/Whanganui all fell short of typical September numbers.
Williams says what is interesting is a softer start to spring than expected. "The election, suspected post-election Reserve Bank movements, and interest rate rises appear to be dampening the influx of listings that warmer weather usually brings to market."
Despite new listings being down last month in most regions, Marlborough (up 3.3%), Auckland (up 6.6%), Central North Island (up 9.6%), and Nelson & Bays (up 14.0%) had year-on-year growth in listings.
Comments from our readers
No comments yet
Sign In to add your comment