Boom times for Auckland consents
Residential building activity is hitting new heights in Auckland with the city now seeing the highest level of new dwelling consents being issued since the early 1970s.
Friday, November 30th 2018, 12:03PM
by Miriam Bell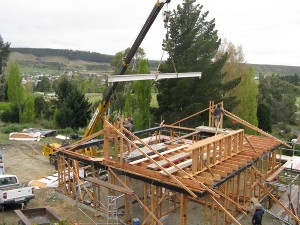 The latest data from Stats NZ is out and it shows that a total of 13,078 new dwellings were consented in Auckland in the year ending October 2018.
Not only is this a 25% increase on October 2017, it is also the highest number of consents issued in a year since the 1970s.
Stats NZ construction statistics manager Dave Adair says dwelling consents in Auckland briefly reached a similar high level in the early 1970s, when Auckland's population was less than half what it is now.
ASB senior economist Jane Turner says the lift in consents, coupled with a slowdown in population growth, means that over the past year Auckland likely built sufficient new housing to keep up with demand from population growth.
"We estimate that this is the first time this has happened since 2009," she says.
"However, over the past 10 years a large shortage has accumulated in Auckland (of around 27,000 by our relatively conservative estimates).
"As a result it will take a number of years of 'over building' to meaningfully reduce the Auckland housing shortage."
Westpac senior economist Satish Ranchhod took a more optimistic view.
He says that while there is still a way to go, if building activity continues on its current trajectory Auckland will soon be consenting enough homes to keep up with population growth.
"And if population growth continues to slow as we expect, Auckland will be on track to start reducing its housing shortage over time."
The Stats NZ data also reveals the ongoing change in the type of dwellings being planned in Auckland.
Over the past year, only 48% of consented new homes in Auckland were stand-alone houses, as compared to 74% across the rest of New Zealand.
The remaining 52% were apartments, townhouses, retirement village units, and flats.
Ranchhod says this indicates a solid lift in medium-density housing (apartments and townhouses) which will account for an increasing share of the city's housing over time.
Meanwhile, the data shows that a total of 32,925 new homes were consented nationwide in the year ending October 2018.
This was an increase of 6.7% from the October 2017 year. Auckland was the main driver of this increase, followed by Wellington.
The consents picture was mixed for other parts of the country, with the largest annual declines being in Canterbury and Bay of Plenty.
Turner says growth in housing construction is now struggling to keep up with population growth in other regions, including Gisborne and the Hawkes Bay.
"Nonetheless, population growth on a nationwide basis is now slowing and, as a result, we believe the level of nationwide housing construction is close to a peak.
"We expect house building activity to remain at relatively high levels over the coming years in order for housing supply to catch up to housing demand."
Comments from our readers
No comments yet
Sign In to add your comment