Consents reach peak level
New dwelling consents have hit a 14 year high and one economist believes they are now at the level required to keep pace with population growth.
Monday, February 4th 2019, 1:57PM
by Miriam Bell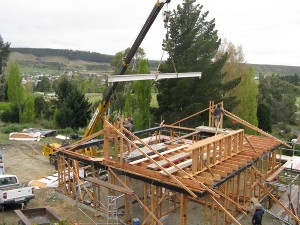 Nearly 33,000 (32,996) new homes were consented in the December 2018 year, which is the highest of any year since mid-2004, according to new Stats NZ data.
That number was also a 6.1% rise on the total of new dwellings consent in the year to December 2017.
Once seasonally adjusted, the number of new dwellings consented in December 2018 was up by 5.1% on November 2018.
This was driven by increases in consent issuance in Auckland and Wellington – of 18% and 19% respectively over 2018.
In the Auckland region, 12,862 new dwellings were consented in 2018, while in the Wellington region 2,731 new dwellings were consented.
Both these totals are near record highs.
Westpac senior economist Satish Ranchhod says that while the annual level of issuance is elevated, it's not obvious that they will continue to push higher over the coming year.
"Looking at Auckland, which accounts for most of the increase in consent issuance over the past year, we've actually seen a levelling off in consent numbers in recent months.
"It looks unlikely that issuance numbers will break significantly higher over the coming year.
"Similarly, issuance in Wellington and in many other regions has also flattened off in recent months."
Ranchhod expects consent numbers will remain elevated over the coming year, but doesn't expect to see a further significant rise from current levels.
Further, consent numbers are now broadly in line with changes in the population, he says.
This point was also made by Ranchhod and his fellow Westpac economists in their latest weekly commentary, which discusses the impact of lower than thought migration flow on residential construction.
They say that we'll still need a large number of new homes over the coming years.
"But with fewer migrants settling here on a long-term basis, the number of homes that will eventually be required is lower than previously thought.
"In addition, it looks as though residential consent issuance has already risen to the level required to keep up with population growth."
The impact of this on housing supply will be felt more widely than just in Auckland, they warn.
"Many other regions are currently seeing high levels of home building, and the durability of those cycles looks increasingly doubtful, especially given the policy– induced slowdown in the housing market already in train."
But ASB senior economist Jane Turner says they expect residential construction activity to remain at high levels over 2019. That's in order for housing supply to make up the shortfall which has emerged in recent years.
Read more:
Migration lower than previous estimates
Comments from our readers
No comments yet
Sign In to add your comment