The DIY landlords
INVESTOR PROFILE: One young Masterton couple have amassed a portfolio with 13 income streams in four years and their story proves that the DIY route is a strategy to seriously consider.
Monday, February 18th 2019, 9:56AM
by The Landlord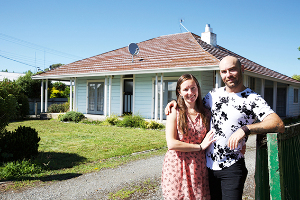 When Trish Keogh and Kael Blake decided to move in together four years ago, the long distance couple had two choices.
They could either move in to a one- bedroom shared flat in Wellington, or a standalone three-bedroom house in Masterton, both with the same weekly rental cost.
Their choice to live in Masterton was highlights the affordability of housing there as the pair quickly realised it made sense to buy a house in Masterton, rather than rent.
In November 2014 they secured a three- bedroom do-up in a nice part of town for just $175,000.
The couple relished the opportunity to renovate their home, removing a wall to create an open plan layout and connection with the backyard.
They did most of the work themselves and learned a lot of building and renovation skills in a short amount of time.
"That made us think, what if we could do that again? We started looking for an investment property," says Keogh.
At the time, the couple were also renting out rooms in their home on AirbBnb, which was a new concept in Masterton at the time.
The rooms were constantly booked out and the idea of buying another home with more rooms was an appealing proposition.
However, they ended up being swayed into looking at the possibility of investing in something more substantial: a block of four 1970s flats came on the market and they purchased it for $420,000.
They kept the tenants that were already living there and decided to renovate the flats as they became vacant.
The flats were renting out for between $175 and $185, and are now each renting for around $245 per week. The value of each flat has risen and now sits at around $200,000.
Since purchasing them Keogh and Blake have updated two of the flats.
Keogh says the project made them realise they'd like to be their own bosses and spend their time renovating and adding value to their properties rather than paying tradesmen to do the job.
They made the career change and bought some more properties and these days the pair renovate, invest and self-manage their multiple properties full-time.
To read more about Keogh and Blake's property journey, click here to get the digital issue of NZ Property Investor magazine.
Subscribe to NZ Property Investor magazine here to get great stories like this delivered to your mailbox every month.
Comments from our readers
No comments yet
Sign In to add your comment