Revealed: Auckland hotspots
Auckland's price growth might be flatlining overall but new data shows the SuperCity still has some hot spots where prices are on the rise.
Wednesday, April 24th 2019, 11:38AM
by Miriam Bell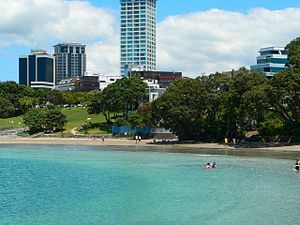 Much has been reported on the current weakness of the Auckland market but commentators are increasingly pointing out that there are multiple markets within the larger regional market.
For that reason, different areas of Auckland are returning very different price and sales results with the Auckland City and North Shore areas generally seeing the most sluggish growth.
But new REINZ data* on Auckland's fastest growing suburbs throws up a few surprises on this front, with Takapuna seeing the region's highest rate of growth in median house prices of late.
According to REINZ, 67 houses were sold in Takapuna at a median price of $1.3 million in the six months ending March 2019.
That's an increase of 30% on the same time last year, which saw 83 houses sold at an average price of $1 million.
REINZ chief executive Bindi Norwell says that Takapuna has long been a popular suburb but, given the recent cooling in price growth on the North Shore recently, this result might be a surprise to some.
Some of the other suburbs recording strong price growth were less surprising. For example, the suburbs which rounded out the top three have both seen consistently strong growth in recent years.
They are Onehunga which saw a 19.4% increase in median house prices (to $925,000) and Morningside which saw an 18.9% increase (to $1,000,500).
But Norwell says there are some other suburbs in the top 10 to note. They include Glen Innes (up 12.9% to $1,005,000) and Stonefields (up 10.5% to $1,287,500).
In Glen Innes, the Tamaki Regeneration programme is likely to have played a part in the significant price growth, she says.
"That's as the community continues to see a number of new houses being built and the promise of a more attractive, sustainable place to live for existing and new residents of the area.
"While not showing as significant increase as some other suburbs, Stonefields has been holding and growing its price, while others around it have been falling or growing at a much slower rate."
The REINZ data also features a list of Auckland's fastest declining suburbs for the six months ending March 2019.
Mt Albert saw the most significant drop in price: it was down by 31.2% to $805,205. Rounding out the top three were Royal Oak (down 25.4% to $865,000) and Long Bay (down 24.8% to $1,188,888).
Norwell says popular central locations like Parnell, Westmere, Mount Eden, Herne Bay and Freemans Bay also saw significant price drops, pushing them down into the bottom suburbs.
"Seeing some of the central suburbs falling towards the bottom of the list doesn't necessarily come as a surprise as they have been slowly declining in price for a while now."
Meanwhile, Colliers recently released its annual pick of New Zealand's top 10 residential areas primed for growth due to changes or improvements underway and planned.
This list includes a number of Auckland suburbs. They are Northcote, Manukau, New Lynn, Panmure, Onehunga and Westgate.
Colliers national director of residential project marketing Pete Evans says the focus in 2019 has shifted to the supply of affordable homes and regeneration of traditionally less expensive suburbs.
"Investment in these suburbs through new development and infrastructure will invigorate these areas and create more desirable places to live with continued growth potential."
*The REINZ data featured suburbs which have made a minimum of 20 sales in each given month of the year.
Comments from our readers
No comments yet
Sign In to add your comment