Wellington City price glow spreads
Remember Auckland's "halo effect"? Well, it's happening again but this time it's at play in the Wellington region as the capital's market powers along.
Monday, May 20th 2019, 10:38AM 1 Comment
by The Landlord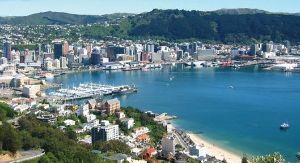 Wellington region's average asking rose by 14.3%, or by $81,000, year-on-year to hit $652,950 in April, according to the latest Trade Me Property Price Index.
For Trade Me Property head Nigel Jeffries it's an example of the ongoing strength of the capital's property prices, which haven't dipped since 2015.
He says the Wellington market has been the country's quiet achiever as while Auckland hogged the headlines Wellington has been increasing considerably in the background.
As for that "halo effect" - Jeffries says that much like Auckland, Wellington's prices have been spreading from the middle out.
"With growing house prices in Wellington City, we're starting to see traditionally quieter areas rise in popularity with property prices in the Hutt Valley and Masterton seeing the largest annual growth."
That has seen the average asking price in Upper Hutt climb 12.8% to reach a new record of $583,650 in April.
At the same time, the average asking price in Lower Hutt jumped 13.9% o $612,500 and Masterton was up 16.4% to $415,200.
In Wellington City the average asking price was up 8.6% on last year to $762,850 while Porirua saw a 5.7% jump to $634,150.
Jeffries says that average asking prices generally slow down as buyers and sellers retreat for the winter, but buyer demand is still very high in Wellington.
"That's despite the way prices in the Wellington region are going and there are also more houses on the market than this time last year (up 7.6%) and interest rates are at all-time lows.
"It will be interesting to see what the winter Wellington property market looks like later this year. Every indication we're seeing is that it will buck the seasonal trend and continue to grow."
In other markets, the property market picture was not quite as rosy, according to Trade Me Property's data.
In Auckland, the average asking price dipped for the first time in nine months. It was down by 0.5% year-on-year to $925,800 in April.
Jeffries says Auckland's market is in a state of flux, although the apartment sector remains strong with the average asking price for an apartment up by 14% year-on-year to $706,000 in April.
"Overall, it's an interesting time for sellers: they're seeing dips for the first time in a long time, the market feels more volatile than it has for many years. Demand is there but buyers are unwilling to offer the sums they were throwing around a year ago."
The national average asking price was up by 4.7% on last year to $673,950.
But regional markets returned a mixed bag of results in April with some seeing double-digit growth, and others experiencing little to no change.
Otago saw its average asking price increase by 13.6% year-on-year to $585,550, alongside a growth in demand as demonstrated by a 19% annual increase in the average number of views for listed properties.
Likewise, Gisborne saw a surge in demand (average views up by 18% year-on-year) and a 20.4% increase in the average asking price (to $378,450).
Waikato was the only region to hit a new high, climbing 6.8% on last year to $587,450.
Other regions were not doing as well, with property prices in Marlborough and Taranaki slowing considerably when compared to the same time last year.
But Jeffries adds that with the OCR cut and record low interest rates, it isn't just Wellington that could see an unusually busy winter.
"With interest rates at an all-time low and the capital gains tax off the table, we expect a boost for the housing market and we will likely see even more buyers in the second half of 2019."
Read more:
Gateway to returns – Upper Hutt
Comments from our readers
Sign In to add your comment