Consents at 45 year high
KiwiBuild production may have struggled to get off the ground but the wider construction industry is powering on with new data revealing that consents hit a 45 year high in May.
Tuesday, July 2nd 2019, 4:02PM 1 Comment
by Miriam Bell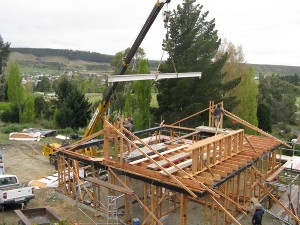 Nationally, a total of 3,687 new dwellings were consented in May, according to the latest Stats NZ data. Once seasonally adjusted, this was an increase of 13% on April 2019.
Stats NZ construction statistics manager Melissa McKenzie says that's the largest number of new dwellings consented in a month since May 1974 when 3,786 were consented.
"A significant increase in the number of multi-unit dwelling consents, such as townhouses, drove growth in new homes consented this month."
On an annual basis, 34,672 new dwelling consents were issued in the year to May. That was an increase of 6.3% on the previous 12 months.
Auckland and Waikato saw the largest growth in new dwellings consented, driven by increases in the number of townhouses, flats, and units.
Further, on an annual basis, both regions had the highest number of new dwellings consented since regional records began in 1990.
Auckland consented 13,881 new homes in the year ended May 2019, which was up 13% from the May 2018 year, while Waikato consented over 4,000, which was a increase of 17%.
Westpac senior economist Satish Ranchhod says they expect that building activity will take another leg higher over 2019, with strength in residential, commercial and infrastructure projects.
However, looking through the temporary spikes associated with lumpy multi-dwelling developments, the trend in consent numbers looks to be flattening off at a high level, he says.
"We think that this signals an approaching peak in nationwide construction cycle and expect this to occur in 2020.
"In many parts of the country, we still expect strong levels of construction activity, but beyond 2020 we don't expect to see the sort of large increases we saw in previous years and in some regions there could be modest declines."
That's because after strong increases in recent years, building activity is now more commensurate with population growth, Ranchhod adds.
"In addition, while population growth is currently elevated, migration is past its peak and we expect it will continue to gradually ease back."
ASB senior economist Nathan Penny agrees. He says they believe house-building activity is likely close to a peak.
"But we expect residential construction activity to remain at high levels over 2019 in order for housing supply to make up the shortfall which has emerged in recent years.
"Moreover, multi-unit dwelling consents are making up an increasing share of consents, which will please councils such as Auckland."
He adds that there are no signs of a slowdown in commercial construction despite weak business confidence levels seen over the year.
Comments from our readers
Sign In to add your comment