Consents rebound likely to be short-lived
There was a strong increase in residential building consents in May but economists say the rebound won't last.
Wednesday, July 1st 2020, 1:54PM
by Miriam Bell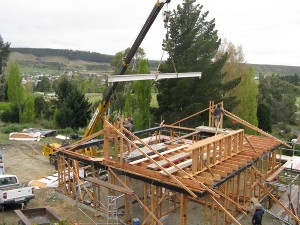 Stats NZ latest data shows that 3,554 new homes were consented in May 2020, which is the highest number since May 2019 when 3,724 were consented.
That's an increase of 64% from April when just 2,168 consents were issued. It is the largest monthly change since February 1972.
When accounting for seasonality the increase from April to May 2020 was 36%, following a fall of 9.9% in April.
Stats NZ acting construction indicators manager Dave Adair says building consent numbers are more uncertain at the moment - due to many underlying factors, as well as the effects of Covid-19 and the implications councils may have faced due to the lockdown in April.
"This month's statistics can also include consents submitted several weeks or months before, so the true effects of Covid-19 may only be seen several months down the line."
But ASB senior economist Jane Turner warns that while the rebound in residential consents was strong, the recovery will be short-lived.
Prior to the Covid-19 crisis, housing construction demand was seeing a renewed upswing on the back of the stronger housing market and some of this momentum has likely resulted in a backlog of consents being processed over May and June, she says.
"However, increased economic uncertainty as New Zealand heads into a severe recession and a sharp fall in house prices are likely to impact housing construction demand and may see some construction projects cancelled. "
Over the coming months, Turner expects construction activity to pick up to complete projects which were underway prior to the lock down.
But the recovering in construction output is likely to muted by social distancing requirements which reduce the overall operating capacity of the construction industry, she says.
Further, potential construction material shortages, disruptions to freight and transport logistics, and possible shortages of skilled labour may present additional challenges to the construction industry.
Turner says that looking further into 2020, we expect construction demand, for both housing and commercial projects, to slump as a result of the severe recession New Zealand is in.
"This fall in private sector demand will free up some spare capacity in the construction sector, and later this year may prove to be an opportune time for the New Zealand Government to ramp up its own construction plans for both housing and non-residential building."
For Westpac senior economist Satish Ranchhod, there is at least a large pipeline of residential building work in the works as the economy opens up again.
That's because before New Zealand went into lockdown, consent issuance had risen strongly and over the past 12 months 37,120 new dwellings were consented, he says.
"In contrast, the value of non-residential building work consented is down 5.5% over the past year. This easing trend was in place before the outbreak and is set to become more pronounced over the year ahead. Our recent discussions with construction firms have highlighted a shrinking pipeline of work."
Comments from our readers
No comments yet
Sign In to add your comment