Consents up again in August
Ongoing growth in the number of new dwellings being consented demonstrates an increasing focus on densification particularly in Auckland.
Monday, September 30th 2019, 4:44PM
by The Landlord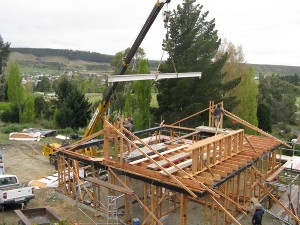 There were 3,261 new dwelling consents issued nationwide in August, according to Stats NZ's latest data.
Once seasonally adjusted, that's an increase of 0.8% in August following falls in the last two months.
While the monthly data often varies, the trend remains on the rise with 35,658 new consents in the year ending August 2019, which was an 8.8% increase from the August 2018 year.
Stats NZ construction statistics manager Melissa McKenzie says this is still below the record 40,025 new homes consented in the February 1974 year.
But in the Auckland region consents continue to hit new records. There was a record total of 14,345 new dwellings consented in the August 2019 year.
Within this, 1,407 new dwellings were consented in August – and the number of townhouses, flats, and units consented reached a new high in the August 2019 year, up 22% year-on-year.
McKenzie says townhouses now make up a quarter of all new homes consented in the Auckland region, while stand-alone dwellings now account for less than half of all new consents issued.
The growth in multi-unit dwellings reflects widespread demographic and construction changes in the Auckland region.
Westpac senior economist Satish Ranchhod says this increasing focus on densification in Auckland is important, as over time it will support a shift towards smaller and more affordable homes.
However, the development of medium-density homes often means that we are demolishing one or more homes to make way for larger developments, he says.
"That means that, although we are building a large number of homes, the overall net addition to the housing stock has been smaller than the number of consents implies."
Despite this, August's consent issuance was above Westpac's forecast for a 1.5% decline and the modest increase comes on top of very strong issuance over the past year.
Ranchhod says they are expecting a strong rise in construction activity over calendar 2019 and today's result supports that forecast.
"Further ahead we expect a strong level of home activity for an extended period to address existing housing shortages and keep up with population growth.
"But while the level of construction is expected to remain elevated for some time, beyond 2020 we don't expect to see the sort of large increases in annual building activity that we've been seeing in recent years."
The large increases in construction activity over the past year mean that consent numbers are now more commensurate with changes in the population as population growth has started to slow, Ranchhod adds.
Comments from our readers
No comments yet
Sign In to add your comment