Climate change insurance threat
Sceptical about climate change? If you own coastal property it would pay not to be, both the Reserve Bank and the Insurance Council are warning.
Friday, November 30th 2018, 5:01PM
by Miriam Bell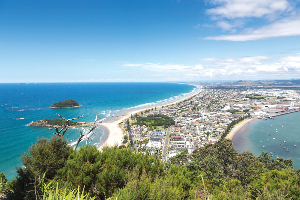 Make no mistake - rising sea levels and more frequent extreme weather events could affect coastal property values and lead to higher insurance claims.
That's the verdict of the Reserve Bank, which devoted part of its latest Financial Stability Review this week to the likely impact of climate change on New Zealand's financial system.
Basically, the financial system is exposed to the physical effects of climate change on property, the Reserve Bank says.
"Coastal property is likely to be the most affected, as rising sea levels may result in some properties being lost to the sea entirely.
"However, more frequent extreme weather events could see broader impacts on properties across the country."
That means insurers and banks will need to ensure longer-term climate risks are adequately reflected in their lending and underwriting standards.
Some insurers have begun adjusting their products and pricing to reflect emerging climate risks, but some existing properties could ultimately become uninsurable, the Reserve Bank says.
"Whilst this supports the efficiency and stability of the insurance sector, it poses challenges for property owners and lenders."
For property owners, those challenges include changes to risk-based insurance pricing, major increases in insurance costs, or even the removal of insurance – which could all impact on resale prices.
Further, lenders may start to lend less on, or even become unwilling to lend on, properties deemed to be at risk from climate change.
The Reserve Bank says that managing the consequences of climate change will require coordinated action from a range of parties – including the finance sector itself and the Government.
Insurance Council chief executive Tim Grafton agrees, saying climate change is a long term significant risk for all property owners.
Insurers want their customers to continue to have affordable insurance cover but climate change will increase the frequency of extreme events, he says.
"That means it will be important that society looks to reduce risks to avoid social and economic disruption where vulnerable properties are located and to enable insurance to remain an affordable risk transfer option."
The Government has acknowledged the threat from climate change to property is increasing and plans to carry out a nationwide risk assessment, to establish what the country will be exposed to, next year.
It also plans to look at how the issue is dealt with financially and develop a way of sharing the risk between property owners, local and central government, insurers and banks.
Comments from our readers
No comments yet
Sign In to add your comment